At Gau Amritam since we committed to deliver within 4 - 5 hours of milking, we have defined the process that this commitment is always met.
2:30 am: Our Delivery Boys, starts journey from south Delhi in AC car.
4:15 am: Boys reach गौ बेड़ा in Dharuheda (HR) am.
4:45 am: गोपालक start milking (दोहन) and simultaneously delivery boys starts the bottling process.
6:15 am: Milking and Bottling done, boys leave गौ बेड़ा
7:30 am: Boys reach Delhi Delivery station in HauzKhas, wherein Delivery Bikes are Parked, all boys get bottles in their bike box, and start delivering on their respective routes.
9:30 am: We are done with milk delivery,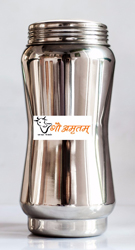 Milk is delivered only in steel bottles to retain all milk nutrients and to save each minute in delivery process, we give Milk bottle and get last day empty bottle back, thus 1 bottle per ltr is in rotation every day. thats why at GuaAmritam we again n again say:
देसी गाय का दूध ऐसा,
अपने हाथ से दोहन किया जैसा...
AND
दोहन के 4 घंटे के अंदर
दूध सीधा आपके घर पर ....
SAY NO TO WATER...NO TO PRESERVATIVES...NO TO CHILLER...NO TO PLASTIC POLYPACK...NO TO PASTERIZATION...NO TO JERSY COW A1 MILK...NO TO STALE (बासी) MILK...
SAY YES TO ONLY "DESI COW A2 MILK"